ORIGINAL WILDFLOWER GOBLET
- 1870's, Adams & Co., Pittsburg, Pennsylvania
- 1890's, U.S. Glass Co. - This location was the former site of Adams & Co.
REPRODUCTION WILDFLOWER GOBLET
- Late 1960's, L.G. Wright, New Martinsville, WV
- Early 1970's, Crystal Art Glass, Cambridge, Ohio
- 1980's, Summitt Art Glass, Akron, Ohio
- Late 1980's, Mosser Glass Co. (still in production)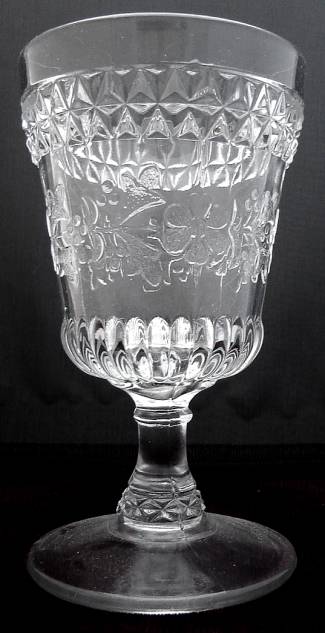 This Pattern is Difficult to Identify. Originals are finely stippled, and have a high relief to the leaves and flowers.

Reproductions are poorly molded, lack the crisp details of Originals, the stippling is poor and these examples are often much heavier in weight.
Original colours are soft, while the reproduction colours tend to be strong and harsh.
The variety of tableware made both originally and in the reproduction period is extensive, as well as the available colours in each of the periods.