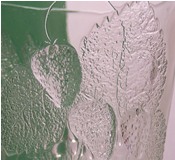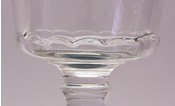 Coloured Reproductions Found Include...
Vaseline, Vaseline Opalescent, Ruby Red, Green, Cobalt Blue, Clear, Amber, Amethyst and Blue.
Reproductions are heavier, thicker, larger in size and have a smaller foot. Reproductions were also made in various colours, where originals were only produced in a clear version.

Reproductions are not as finely detailed, leaves are unnatural looking and lack stippling.

Reproduction Strawberries also look unnatural, as the seeds are 3 dimensional circles rather than crisply moulded seeds. On the Reproductions, the dimple at the bottom of the pear is missing the detailed bud leaf.

On most reproductions the panelling at the base of the bowl is almost non-existent. The panelling on the reproductions appear as a rippling or waviness where originals have a crisply moulded band.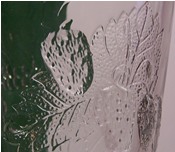 Wine Glass