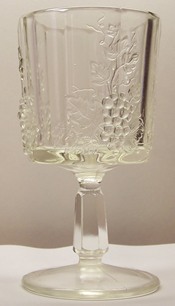 REPRODUCTION COMPANIES
L.G. Wright reproduced this pattern from 1938 to the 1940's and from the 1960's to the 1990's. Various Colours Include: Amber, Purple, Ruby Red, Green, Light Blue and Clear
Westmorland Glass Co. reproduced this pattern (named Paneled Grape) beginning in the Late 1940's until the Company's Closure in 1985. Westmorland produced dozens of colours including the colours listed above, as well as Milk Glass, Various Carnival Glass Colours and more! Any colours not listed to be made by L.G. Wright are believed to be Westmorland Glass. The majority of reproductions found in this pattern are Westmorland's. Many pieces were signed by the company, but many are also found unsigned.
All coloured examples including milk white are reproductions.

Reproductions, which were also made in clear, are heavier and usually glossy or wavy in the glass.

The reproductions lack the finely detailed leaves and vines that the originals have.

When examining the veins within the leaves, the reproductions lack the fine stippling and details which are almost non-existent. have.