ORIGINAL CARDINAL GOBLET
- 1870's to 1880's
Original Factory Unknown
REPRODUCTION CARDINAL GOBLET
- Mosser Glass Co. from 1970's to 1980's (signed)
Possibly Summit Art Glass, and an unconfirmed production at L.G. Wright.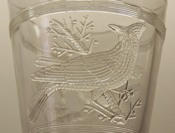 * There were several original molds created in this pattern. Originals have been found with slight variations in the berries, branches, leaves, mold rings, etc. The key to identifying this pattern is to look for strong details in the feathers of the bird, veins in the leaves, etc. and the weight of the glass. Reproductions are considerably heavier and thicker when compared to originals.
All coloured examples are reproductions.

Reproductions were also produced in clear but lack crisp detail in the tree branch, the birds feathers, wings and tail.

Berries on the reproductions are much smaller and less defined, along with the lack of detail in the birds feathers, leaf veins, etc.

On the reproduction (as shown) made by "Mosser" Glass Company from Cambridge, Ohio, the bird is holding two branches, where the original bird is holding only one branch. Although we have seen both Originals and Reproductions with the bird holding two branches, we have yet to see a Reproduction holding only one branch.
"Mosser" signed this reproduction, "M" inside a shield.