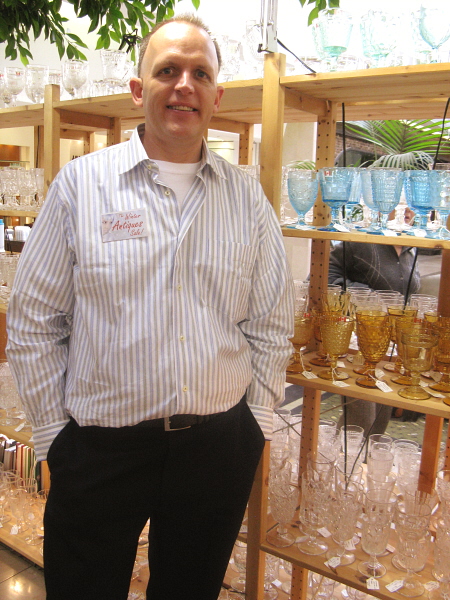 Antiques have been my life. Selling antiques has been the family business and my passion for over 30 years. My love for antiques began at a very young age, as I first started to buy and sell for clients in my teenage years. My parents owned and operated an antique store called "By George Antiques" located in Elora, Ontario. It was here that I learned a vast knowledge for all categories of antiques from furniture, to china, books, etc. Over many years while I attended high school, my Mother and I sold a collection of over 7,000 pieces of Depression glass. During this time I studied and learned many patterns produced both in Canada and the United States. It was at this time that I first began to appreciate antique glassware.
After I graduated high school and auctioneers school, I became a professional auctioneer. For several years I auctioned local estates and collections, in varying categories. During this time my efforts were also focusing on displaying at antique shows. When I first began exhibiting antiques, I sold a variety of antiques; small furniture, china, silverware and glass. As the antique business grew larger, I gave up my auctioning career to focus solely on antique shows. Soon after I gave up this career, I began to focus on antique glass, displaying pressed glass goblets and tableware, coloured glass and a small selection of Victorian glass. Gradually my love for pressed glass grew.
In 1995, the Elora Antique Warehouse opened and I became a dealer at this location selling a variety of antiques. Displaying two booths, one was for pressed glass and the other for all other antiques. At this time I was traveling to shows across Ontario. Shortly after the Elora Antique Warehouse opened, I was asked to conduct a training session on antique glass for the staff. At this session I taught staff how to identify Pressed Glass and explained how it was produced. The staff also learned how to recognize Victorian Cranberry glass, as well as reproduction glass.
In the year 2000, I lectured at the "Wellington County International Plowing Match." For this lecture I talked about the history of Pressed Glass, how it was produced, the different forms designed by mold makers and current functions.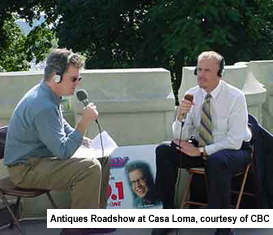 In August of 2001, I was approached by C.B.C Radio to appear on "Fresh Air" to talk about the history of Pressed Glass and explain why there is such an interest in collecting goblets.
On October 3rd, 2001 I appeared on "Ontario Today" with CBC Radio at Casa Loma in Toronto with the Antique Roadshow. I conducted a phone-in segment discussing the positive and negative aspects of the Antique Roadshow in Canada. I also gave my opinion on some of the antiques waiting to be appraised.
In January 2002, I launched a new business called "Sean George Pressed Glass and Goblets" which is the business name that I currently work under. We buy and sell all categories of glass, but specialize in Early Canadian and American Pressed Glass, Clear & Coloured Depression Glass, Victorian and Georgian Glass. At a show you can always expect to find a diverse selection in all of the above categories!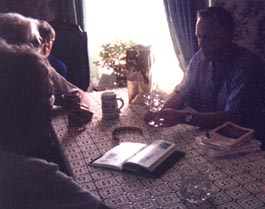 Like many dealers, I travel to different towns and cities, showing our collection at antique shows. The business travels to most major antique shows across Ontario and Quebec, as well as hosting "Open Houses" in Muskoka, Ontario (every July 1st Holiday weekend) and in Knowlton, Quebec (during the Canadian Thanksgiving weekend).
In the summer of 2002, I participated in a mini "Antique Roadshow" style appraisal clinic at the "Applewood House Museum" in Etobicoke, Ontario. A large volume of people brought in antique glass and unusual pieces for appraisal and background histories for their treasures.
In July of 2002, I launched a special new Open House in Port Carling, Muskoka on Canada Day weekend. The friendly community welcomed us and we were visited by all 3 local newspapers who wanted to feature our special showing in each of their newspapers, with articles on Pressed Glass. This show has now become an annual event, every July 1st Holiday weekend.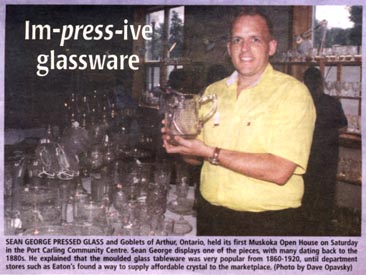 In August of 2002, I appeared on "Breakfast Television" Toronto, to talk about the different forms of Pressed Glass and discuss the everyday uses and functions.
In November 2002, I lectured on Pressed Glass at the "Canadian Collectors Association" in Etobicoke. The lecture material consisted of the history of Pressed Glass, Canadian Glass, reproductions, functions and current everyday uses.
In January 2003, "Rogers Daytime T.V." Toronto, asked me to appear on their show. Again, we talked about the function, forms, patterns and uses.
In January 2004, I lectured at the "Canadian Collectors Association" in Etobicoke on Indentifying Reproductions. I showed many side by side examples, with supporting reference materials. Also shown were both early and recent signed glass pieces including an explaination on how to identify the differences. Members had an opportunity to physically examine pieces and take home handouts listing patterns reproduced and hints to recognize the reproductions.
In April 2004, I was asked to appear on "Breakfast Television" in Ottawa at the New RO for the Ottawa Antique Show. We discussed the popularity of collecting Pressed Glass, not just for the collector but also for people looking to decorate their homes with unique pieces. People are looking for something that meets the criteria, something affordable, unique, that will appreciate in value and something they can use, Pressed Glass does it all. I brought a number of items for display, including a selection of silverware, books and other pieces for decorating ideas, to help promote the antique show.
On August 25th, 2004 I attended the "Windermere Antique Appraisals and Tea" for the Anglican Christ Church, Mockridge Hall in Muskoka, Ontario. This event saw many local people excited to learn more about their treasured items. We saw everything from china, glassware, jewelery, paintings, primitives and much more. The day was a success and the funds raised were given back to the community in celebration of the church's 100th birthday.
On June 25th, 2005 Muskoka Antiques in conjunction with the Minett Peninsula Lions Club hosted an "Antique Appraisal Day". Seven knowledgeable appraisers attended and appraised many fabulous antiques. I was proud to be a part of this event and to assist the Lions Club with raising money for community projects. I enjoyed supporting this event as an educational day enabling the public to educate themselves and develope a better appreciation of their heritage and for antiques.
In February 2006, I was visited by a local newspaper representative at the Sherway Gardens Antique Show in Etobicoke. The picture is courtesy of the Guardian Newspaper.
On August 3rd of 2008, I was interviewed by CHIN T.V. Toronto. The show was called "The Johnny Lombardi Show", promoting the upcoming Sherway Gardens Antique Show, in Etobicoke, Ontario. For this interview we talked about the changes in the antique business and the future of collecting. Also, the fact that many antiques are still affordable and easy to acquire. I displayed examples of pressed glass and our discussion focused on the function and uses of antique glass with our modern living. I shared with the viewers many of the suggestions that have been passed along to us from our loyal clients. This short exposure inspired many to venture out the show. We were visited by many people who had never considered antique glass, but were disappointed they hadn't started collecting sooner! Thank You CHIN Television!
On October 28th, 2008 I hosted a seminar at the Norfolk Heritage Centre, Simcoe, Ontario. The Museum featured a special exhibit called "Glistening Glass". The topic of discussion was the History of Canadian Glass and the development of the industry throughout the Victorian period and into the Depression Era. Many treasures were brought in, that I eagerly gave free appraisals and details of the origins, manufacturers and dates of productions, for each individuals item(s). The seminar was a success and all who attended were pleased they came.
On November 2nd, 2008, I participated in a "Seminar Day", along with several other specialists, to present lectures throughout the day to the interested public. The location was the "Toronto Antiques on King" Antique Store, downtown Toronto. For this lecture, the topics were "A Brief History of Pressed Glass" and "How to Decorate and Use Pressed Glass". Again, we were well received and those who attended had an opportunity to win door prizes and given free verbal appraisals for each item brought in. It was a fun day, and we enjoyed learning from the other professionals and their presentations!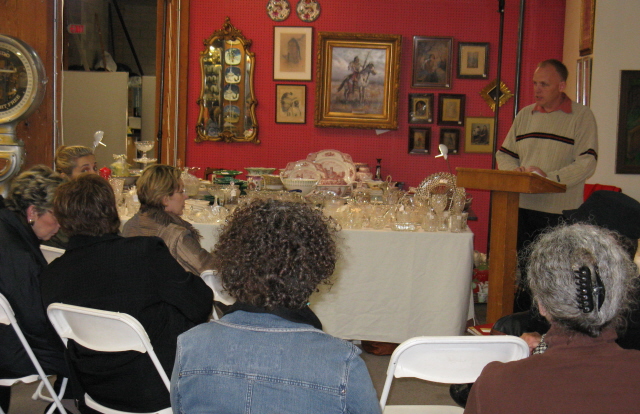 On July 19,2009 I was invited to speak at " An Evening of Pressed Glass" hosted by Lisa Stuart of " On The Hill Concierge", a well known party planning company in the Georgian Triangle area. Guests were invited to a "mini lecture" about Pressed Glass history and how to serve with your pressed glass at the cottage or at home, while enjoying the many treats presented by Lisa and her staff. The treats were actually displayed on pressed glass to show possible uses. After, the enthusiastic group had many questions about the glass! A fun night!!
The interest in Pressed Glass continues to grow, as both dealers and collectors have seen this trend over time. Both older and younger generations are still collecting and appreciating antique glass. Whether it is for everyday use, special dinner functions or for decoration, the interest still remains very strong. As the internet has become more and more a part of our everyday life, it is our continued goal to provide you with information via the internet and continue to expand and develop the website. Currently, many collectors and dealers are concerned about the economic worries. During this time, we have planned and will continue to expand both the information and availability of our glassware, whether it be through the shows, store locations or online. We have many ideas for the future, and will continue to promote the enjoyment of both collecting and using Pressed Glass!!
The majority of inventory for our business is bought from large and small private collections and estates purchased year round, all over Canada and the United States. We have a high turnover with our stock on a yearly basis and we offer a free service to our customers to search and find specific pieces to add to their collections. An important focus of our inventory is authenticating each piece of glass, by naming, dating and referencing the items. At shows and store locations there are pressed glass pieces in every price range from the affordable to the very unique and rare. "Sean George Pressed Glass & Goblets" buys, sells, appraises and searches early American and Canadian pressed glass and most recently from client demand, depression era glassware, 1920 to 1960. I take pride in the business and find great pleasure in satisfying all of your antique glassware needs.
Sean George
Pressed Glass & Goblets
P.O. Box 369
Arthur, Ontario Canada
N0G 1A0
519-848-2200
Email: info@pressedglassandgoblets.com