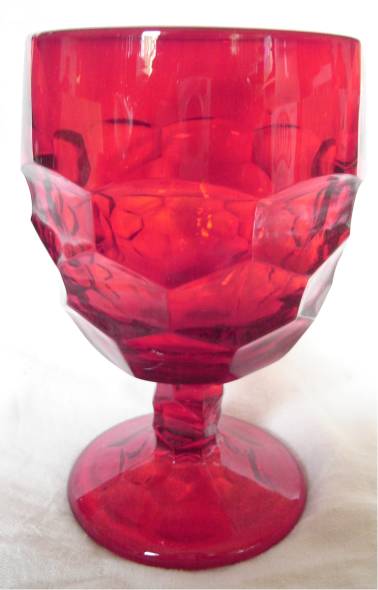 GEORGIAN - Line #6900
This goblet was produced by the Viking Glass Company, in the 1950's & 1960's.
Along with this goblet, the company produced a number of pieces of tableware in the Georgian pattern, including compotes, candies, pitchers, etc.
The pattern resembles the very popular "Honeycomb" pattern, that was produced by a number of companies, circa 1870. Due to patent laws, companies in the period tried to produce a similar pattern, but in different shapes, sizes and slight changes to the pattern itself. As it was popular in it's day, the Viking Glass Company brought back this popular pattern in their own version. The Georgian pattern, unlike similar Honeycomb patterns, has the pattern appearing on the stem and the foot of the goblets and other stemware in this pattern.
The Viking Glass Company produced a variety of colours in this pattern. Colours include Crystal, Amber, Amethyst, Emerald Green, Charcoal, Colonial Blue, Cherry Glo, Cobalt Blue, Olive Green, Evergreen, Harvest Gold, Pink, Avacodo, Bluenique, Brown, Honey, Ruby and Light Blue. The colour of the goblet shown is called "Cherry Glo".