Goblets - Wines - Tumblers - Toothpicks - Compotes - Cake Stands
Banana Stands - Creamers - Spooner - Covered Sugar - Covered Butter
Relish Dish - Shot Glasses - Celery Vases - Rose Bowl - Buttermilks
Fruit Bowls - Bread Plates - Jelly Compote - Fruit Nappies
Water Pitchers - Milk Pitchers - Punch Bowls
Celery Vases
The celery vase looks like a flower vase that is straight sided, and comes either on a pedestal or without the pedestal, known as a flat celery vase. In the late 1800's, the celery vase sat in the centre of you table all day. Your mother would fill the celery vase with fresh well water, chop up celery and place the celery sticks inside the vase in the fresh water. The water would keep the celery crisp all day long, and celery was your snack to tide you over until mealtime. When not being used to hold celery sticks, today they are commonly used for bread sticks, to serve steak knives, to hold a pillar candle, and also as a flower vase.
Rose Bowl
The rose bowl was designed to hold an individual floating rose for decoration in your home. Rose bowls can also be used to hold potpourri, as tea light candleholders, as a small planter, to hold powder puffs or to store cotton balls.
Buttermilks
This glass is shorter than the goblet, with a wider circumference. It was used originally to drink buttermilk. Today they are very popular for individual dessert dishes or for ice creams and sherbets because of their wide size, and how low they sit on the table. They are also very handy to use to serve sauces. As drinking glasses they are used for beer glasses (holding exactly one beer), and for mixed drinks like rum and coke. Buttermilks are also used as candies or for a shrimp cocktail (sauce in the bowl & shrimp hung around the rim).
Fruit Bowls
The fruit bowl was originally used to hold your fruits (apples, oranges, pears, grapes, etc.) and to serve fruit salads. They are commonly used for their original purpose as well as to serve salads, trifles, fruit salads, mashed potatoes, corn, pretzels, potato chips, etc. They come in a variety of sizes and depths for a great variety of uses. When not being used as a serving piece, many people will use the fruit bowl to display potpourri, dried flowers, decorative stones or for a floating candle display.
Bread Plates
The bread plate was used to serve a loaf of bread. They came flat or having a slight slope and either rectangular or round. Many people are using bread plates to serve a grouping of sandwiches at a lunch party, to serve cookies, squares and an assortment of fudge and chocolate. By placing a fruit nappy (what looks like a small sauce dish) in the centre, the bread plate can be used for serving veggies and dip. They also display, very nicely, a cheese ball and crackers.
Jelly Compote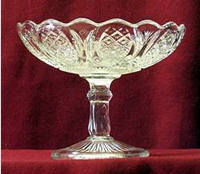 The jelly compote is small pedestal compote, miniature of the full-size compote, used originally to serve jellies and chutney's at the table. This was important because people did not have the spices we have now, and meats were very bland. They are popular now as individual dessert dishes, for serving ice creams or fruit salads. They are also used as candy dishes or to display and individual pillar candle. It can also be used for serving cranberry sauce with the holiday turkey!
Do you have new ideas to share?
Please e-mail us at info@pressedglassandgoblets.com
Sean George
Pressed Glass & Goblets
P.O. Box 369
Arthur, Ontario Canada
N0G 1A0
519-848-2200
Email: info@pressedglassandgoblets.com