Goblets - Wines - Tumblers - Toothpicks - Compotes - Cake Stands
Banana Stands - Creamers - Spooner - Covered Sugar - Covered Butter
Relish Dish - Shot Glasses - Celery Vases - Rose Bowl - Buttermilks
Fruit Bowls - Bread Plates - Jelly Compote - Fruit Nappies
Water Pitchers - Milk Pitchers - Punch Bowls
Compotes
There are 2 kinds of Compotes, a Covered Compote and a True Open Compote. The True Open Compote, having a ruffled or fluted top, was intended originally to hold fresh fruit. The Covered Compote was for anything that had a liquid, such as a fruit salad, stewed peaches or rhubarb, etc. This lid was essential, as it was before screening in windows was invented. Modern uses for the compotes are many, including the original purposes. Compotes are used for serving breads, mashed potatoes, salads, cookies, squares, and much more.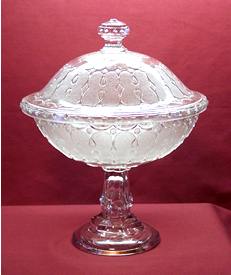 They are popular as a centre piece to float candles in, to display freshly cut flowers from the garden, or for holiday decorations like tree ornaments or Easter eggs. A popular use among those who like to use their compotes, while not being used as a serving piece, is to place a large pillar candle in the centre and make a flower arrangement circling the candle.
Cake Stands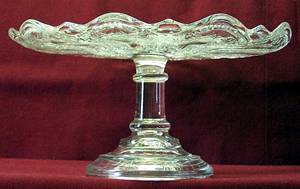 Cake Stands were made in various sizes, from 7" to 12" in width. Occasionally one may be lucky enough to find a 13" or 14" cake stand of this period. They are still very popular today for serving a cake, especially at Birthdays, Weddings and Anniversaries, and perfect for serving that special dessert at all of your parties and functions. Many say the cake stand completes the perfect cake, elevating the cake at eye level for your guests at the table, adding to the entire appeal. Many are using the cake stands for serving a cheese ball and crackers or nachos and dip. For large functions, a grouping of 2, 3 or 4 tiered cake stands are very popular. One can alternate, cookies and squares on each cake or alternate flowers and grapes. The perfect piece to top the tier is known as the Childs
Cake Stand. This tiny Cake Stand measures 6" to 61/2" in width. The Childs Cake Stand was originally used for a child to practice setting a proper table by Mothers example. The daughter would observe her Mother setting the table and serving her guests, while the child who was nearby would entertain her dolls and teddy bears by practicing with her own pieces. They are ideal as the top cake stand to complete the tier. The 6" top surface is popular to serve chocolates and mints, or you can cut the stems of several roses, lilies or chrysanthemums, and circle them around a lit pillar candle. For safety purposes make sure that there is no movement of the cake stands stacked. If one is rocking on the surface of another, simple take a tiny piece of paper and slide it under the area that is rocking to stop the movement. An example of a great tiered display is to use a 12" as the bottom, 10" as the second on top, 7" as the third and the child's cake stand for the top. Start the bottom with an assortment of cookies, the second for green and red grapes, the third for brownies and squares, and the top a green pillar candle with 5 or 6 red roses around the candle. Adding colour to your desserts or meals makes the appearance tantalizing and a lot more fun to create!
Banana Stands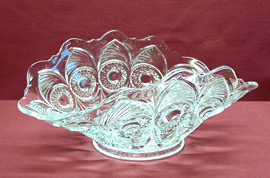 A hundred years ago, the Banana Stand was a very important piece of tableware. We all know how quickly Bananas ripen, and it was believed that bananas enhanced the ripening of the rest of your fruit, if you kept all of your fruits together. Companies designed and produced a dish to specifically hold a grouping of bananas. The Banana Stand in appearance looks like a cake stand with 2 sides folded up in a u-shape, and either came with the pedestal (banana stand) or without the pedestal (flat banana). Many people continue the original use for holding a grouping of bananas. Others have found creative ways to use this unique hundred year old dish. The banana stand is perfect for holding your paper napkins at a barbeque, or while serving hor d'oeuvres.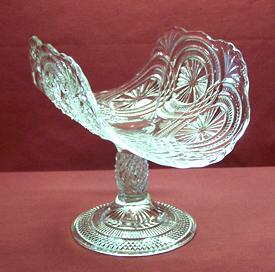 Simply take a square paper napkin, fold it in half, one point to one point, to shape a triangle. Napkins rest perfectly when placed with the fold down, matching the shape of the banana dish to the napkin. You can also wrap your utensils in a paper or cloth napkin and stack them in the banana dish, for a buffet dinner party. Many people will display a grouping of grapes in the banana stand at a wine and cheese party. The banana dish is also great for serving freshly baked bread sticks. In the guest bathroom, you can use the banana stand to hold a display of rolled up face cloths, topped with a bar of face soap and hand soap. They also can be used for a great floral display with either fresh cut flowers or a silk arrangement.
Do you have new ideas to share?
Please e-mail us at info@pressedglassandgoblets.com
Sean George
Pressed Glass & Goblets
P.O. Box 369
Arthur, Ontario Canada
N0G 1A0
519-848-2200
Email: info@pressedglassandgoblets.com