ORIGINAL KNOBBY BULL'S EYE GOBLET
- after 1900, American
REPRODUCTION KNOBBY BULL'S EYE GOBLET
- 1960 - 1970's, signed, Red Cliff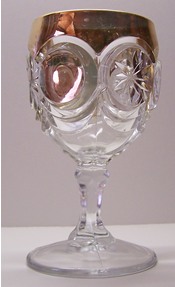 RED-CLIFF COMPANY
The Red-Cliff Company was based out of Chicago, Illinois and recognized for their distribution of Fine China Dinnerware. All pieces with this signature were produced by the Fenton Art Glass Company, but sold and distributed by Red-Cliff Co. Production began in the 1960's through to the early 1970's. Patterns that were sold by this company and made by Fenton are the Grape pattern, Empress, Sydenham, Sable Arch and Knobby Bull's Eye (reproduction). When the company dissolved in the 1970's, Fenton then created glass bells from several of these patterns, that were produced and sold by Fenton Glass Company in the 1980's.
Reproduction goblets are much are larger and heavier.

Reproductions were made in various colours, where originals were only made in clear, clear with gold decoration and clear with colored bull's eyes.

Reproductions are signed on the base of the goblet, "RC Red Cliff" with the copyright stamp.