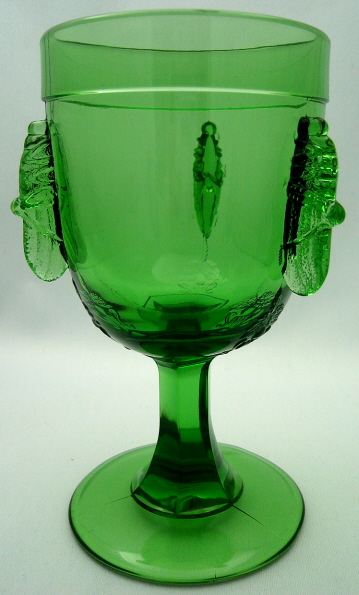 GRASSHOPPER
Although this pattern was originally made, the goblet was not part of the original production, and therefore considered to be a new form made in the Reproduction Era. Original tableware items were made in the 1870's, with the maker still unknown.
This goblet was 1st introduced by the L.G. Wright Glass Co., from New Martinsville, West Virginia in the 1960's. Various tableware was reproduced, so if you are collecting tableware, be careful not to mix up the different production periods. Like most reproductions, the tableware items are lacking the crisp lines and details, the grasshopper figurals, appear blotchy, as the detail is poor in the head and body of the figural.
ALL goblets were made in the late 1960's by the L.G. Wright Glass Co.