ORIGINAL DAISY AND BUTTON WITH THUMBPRINT GOBLET
- 1880's, Canadian & American
REPRODUCTION DAISY AND BUTTON WITH THUMBPRINT GOBLET
- 1930's, 1950's to 1970's, L.G. Wright Glass Co. (Possible made by Fenton during the 1950's, but still unconfirmed)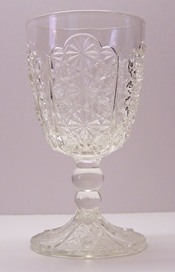 Reproductions are heavier, thicker and lack the sharp crispness of the originals.

The reproduction goblet's lack of detail is most noticeable in the vertical thumbprint panel, where the thumbprints are not well defined, instead they are blurry and flow into each other. Lack of crispness is also visible in the Daisy and Button motif where it is not crisp or sharp to the touch like the originals.

One of the most distinguishable differences is on the original goblets - there is a distinct thumbprint band found around the bottom knob in the stem. This thumbprint band is not found on the reproduction examples.

Reproductions and originals were both produced in a number of colours and stained decorations.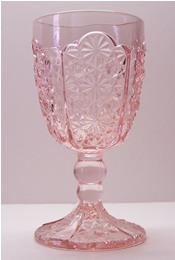 Reproductions have been found in the following colours; Ruby Red, Vaseline, Clear with Painted Panels, Amber, Amethyst, Amberina, Amber Stain, Blue, Clear, Green, Pink and Milk Glass